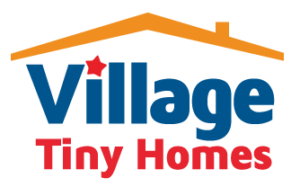 Central Texas Village Tiny Homes
Are you looking to lower your environmental footprint? Maybe you need a hunting lodge for the ranch? Or, are you simply looking for an affordable way to buy your own home?
Whatever your motivation, tiny houses offer an exciting, affordable way to cut down on your environmental footprint and own a beautiful home at the same time. At Modular Homes Austin, we carry a range of tiny houses or park model homes for sale to help you find the ideal living option for years to come. Each of our models incorporates full-sized living spaces on small spaces, helping you live with less environmental impact without cramping your living style.
We have full-time realtors available to help you find land for your home. For more information about our realtors, visit Village Homes.
Minimize your footprint without compromising your living space with "The Austin" park model tiny home. The spacious bedroom features two closets, while the open living room and kitchen allow you to enjoy the company of guests while cooking dinner. The front porch is 6 feet by 15 feet, providing you the outdoor space to kick back and relax all year long.
---
Take full advantage of a small home with lofted spaces with "The Summit" park model tiny house from Village Tiny Homes. The unique design features a lofted bedroom above the bathroom and laundry area, giving you more space to enjoy in the unique angled kitchen and spacious living room.
---
When you purchase a park model tiny home with Village Tiny Homes, you'll get to select all of the key style elements, including the color, counter-tops, molding, flooring and more.
---
Check out our Facebook page to see more photos of more styles, floor plans and homes!

If you're interested in exploring the variety of park model tiny homes we have for sale, call our experienced staff today at (512) 334-4310.
Village Tiny Homes
Phone Number:
Hours of Operation:
Monday: 10am-6pm
Tuesday: 10am-6pm
Wednesday: 10am-6pm
Thursday: 10am-6pm
Friday: 10am-6pm
Saturday: 10am-6pm
Sunday: 12pm-4pm
What Sets Us Apart?
Locally owned and operated for more than 60 years
Our homes are built to higher quality standards
Our realtors help you find land for your home