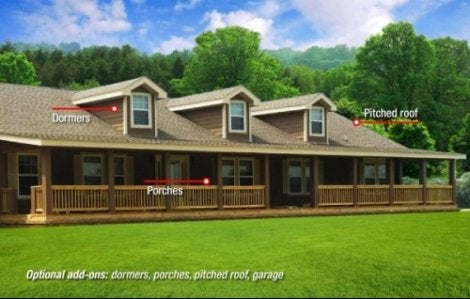 Modular Home Floor Plans in Central Texas
Room for the Entire Family
Whether you have a large family or frequent guests, you not only need but deserve to have the proper amount of space for everyone in your home. If your current house is lacking space but you do not have the budget to purchase a larger, site built home, consider purchasing a modular home from Modular Homes Austin! We offer a large variety of four and five bedroom floorplans that cannot only meet, but exceed your needs.
---
More Images
We have a wide selection of floor plans in single-section or multi-section modular, mobile, and manufactured homes. Any extended family living together will love this plan with 2 bdrm/2 bath on each side. Perfect for mother-in-law or daughter-in-law suite.
---
More Images
An impressive oversized kitchen features a Chicago style brick stovetop area and a massive island make this home a winner. Check out the bathroom vanity and dual closets.
Depending on your budget and size requirements, we can help you purchase the best home for your needs and wishes. Our team has more than 60 years of modular home experience and can help you throughout the entire process, including the selecting, purchasing, and building. If you would like more information regarding our floorplans, Call Modular Homes Austin at (512) 385-9701 today! If you are searching for a two or three bedroom house, Modular Homes Austin offers two and three bedroom floorplans for our modular homes as well! Our team strictly works with the best modular home manufacturers so you may obtain the highest-quality home that can last a lifetime.
What Sets Us Apart?
Locally owned and operated for more than 60 years
Our homes are built to higher quality standards
Our realtors help you find land for your home