Modular Homes vs. Manufactured Homes vs. Site Built Homes
As you research the options to build your dream home, one of the first questions you'll have to answer is whether to buy a modular home, a manufactured home or a site built home. Here at Modular Homes Austin, we can help you build your ideal home without the steep price tag of a site-built home.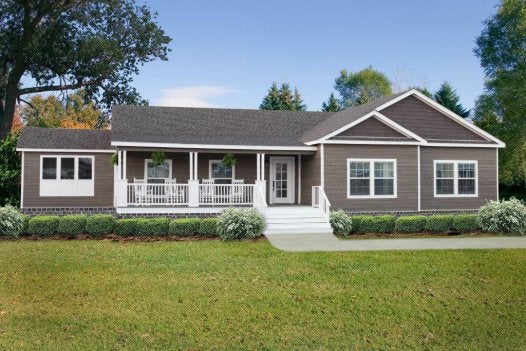 What's the difference between modular homes and manufactured and site-built homes?
Modular homes are very similar to site built homes, but instead are built off-site in a controlled environment. This means you don't have to deal with contractors and other companies on your land for months or even rolling into a second year. Instead, we'll work with you to customize plans for the ideal size and style of your home. Our professional craftsmen will build your customized dream home in an indoor factory setting. After construction, we will transport your home to your land site in modules and our professional contractors install it on a permanent foundation.
Modular homes are more affordable than site built homes and often must adhere to stricter guidelines and building codes, so you get a polished, finished product. On average, modular homes are 25% less than site built homes without compromising quality. With modular homes, you get a high quality home at a reasonable price.
Modular homes are sometimes confused with manufactured homes, which are also built off-site. The difference, however, is that manufactured homes are required to have a permanent framework attached to the bottom of the house to assure the continued ability to transport the house. Unlike manufactured homes (also often incorrectly referred to as mobile homes), modular homes are placed on a permanent foundation and cannot be moved after installation.
Advantages of modular homes
With modular homes, you can get the quality and customization you desire without the high price of site built homes. As you consider whether a modular home might be right for you, here are some advantages to consider:
Because modular homes are built indoors, weather can't delay the building process, allowing you to move into your dream home on schedule
Whereas site built homes can take more than a year to complete, modular homes are assembled on site and finished within weeks
Thanks to the shortened construction time, modular homes can be built at a much lower cost than site built homes. For example, a contractor, say plumbers, doesn't have to make 4, 5, or 6 trips to the construction site. They can do it all in one visit which reduces your cost and time of construction.
Unlike manufactured homes, modular homes are installed on permanent foundations
Modular homes must conform to the rules, guidelines and building codes of Texas and the local government, such as The Texas Department of Housing and Community Affairs. All ensures you have a superior home. https://www.tdhca.state.tx.us/
Here at Modular Homes Austin, we've helped hundreds of Texas residents purchase and build their ideal homes over the past 60 years. We pride ourselves on working with the highest-rated modular home manufacturers to ensure you obtain a high quality home at an affordable price.
Call us at (512) 385-9701 today to set up a modular home consultation with one of our experts or to tour one of our floor plans!
What Sets Us Apart?
Locally owned and operated for more than 60 years
Our homes are built to higher quality standards
Our realtors help you find land for your home